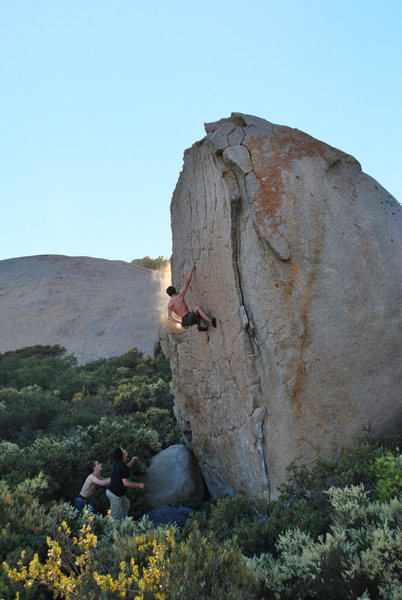 Just because you live in a city does not mean that you have to be stuck in it all the time. We all need a break sometimes, and what better way to get that break than a nice climb nearby? There are several spots in San Diego for a great hike, some intense climbing, and some awe inspiring views.
Whether you head out to Cabrillo National Monument for a relaxing day hike, or run up to Cowles for a harder mountain trek, You can find something for your skill level and enjoyment. Some of these are near rivers and waterways and are a relaxing way to catch a swim. If you are really lucky, there will be some deep water for some rock jumping fun. Many of these are free, but some (like Cabrillo) have a small fee for parking. All over the county, there are little pockets of mountains that offer some great climbs and fun hikes. Here is a look at two of these sites that, last time I was there, are free to the public and not that far from the city. Close enough to see the houses, far enough to breathe the fresh air, these are convenient and close enough to get away on an afternoon trek.
Santee Boulders
Santee Boulders is one of the most classic getaways for climbers in the San Diego area. They have a little bit of everything. Most of the climbs are short, but they can get rather difficult. There are several different areas you can go for boulder, top rope, or traverse climbing. Many of the local climbing groups meet here as well, so if you want to join a group, or just need some pointers, this is the place to go. It is recommended that you take a crash pad, but there are several climbs for beginners to try that are completely safe without the pad. Painted Crack and Masochists Crack are awesome climbs, but they should be reserved for the experienced climber. Finger Crack and Funky Like a Monkey are some really great easier climbs. There is something here for everyone. Whether you have been climbing for years or minutes, you can find something in your level. This place is located near the 52 on Mast Boulevard in Santee. It is across the street from West Hills Park (which is where you can park while you are there). Just like everything else in San Diego, it is only about a fifteen minute drive to sheer bliss and amazing views.
Mission Trails Regional Park
Mission Trails is another amazing park. I haven't been here in a while, but there are several different treks for hikers and climbers alike. If you are there for the rocks and cliffs, Climber's Loop Trail is where you want to be. This is a fairly easy trail that brings you right to an amazing face to climb. Touted as the best climbing in all the county, this place does not disappoint. It offers some of the best climbs around. Whether you are there for the rocks and boulders, or want to attack a cliff face, there is a climb for you here. There are so many trails and areas in this place it would take months to see all of it. There are some great mountain biking trails as well. It can get a little crowded on the weekends, but most people are there for the hiking and camping. If you go to climb, there is a much smaller crowd. There are usually some avid climbers and some climbing clubs in the area, so if you want to join up or just need the advice, someone is almost always around. There is also a Visitor's Center with some awesome maps and info on the area, as well as some nice campgrounds. This is a great place to just get lost for a weekend, or even a week. You can set up a base camp in the campground and just hit the trails and walls. This is one of my favorite spots for climbing in all of San Diego. It also offers some of the best views. On a clear day, you can almost see the entire county laid out before you. It is truly breathtaking.
While most of the good climbs are in the Santee area, there are pockets of rocks and walls all over the city. If you really wanted to, you could find several indoor walls to climb, but with all the natural options the county has to offer, why waste the $50 membership. Most of the climbs in the county are free and they have areas to suit all skill levels. These are just two of the spots that have some higher traffic so if you need help, it is there. There are so many more canyons and gullies throughout San Diego, that finding a climbing spot near you should be easy. For those that love to workout, give this sport a try. It will save you the gym membership, because you will use muscles you never even knew existed.