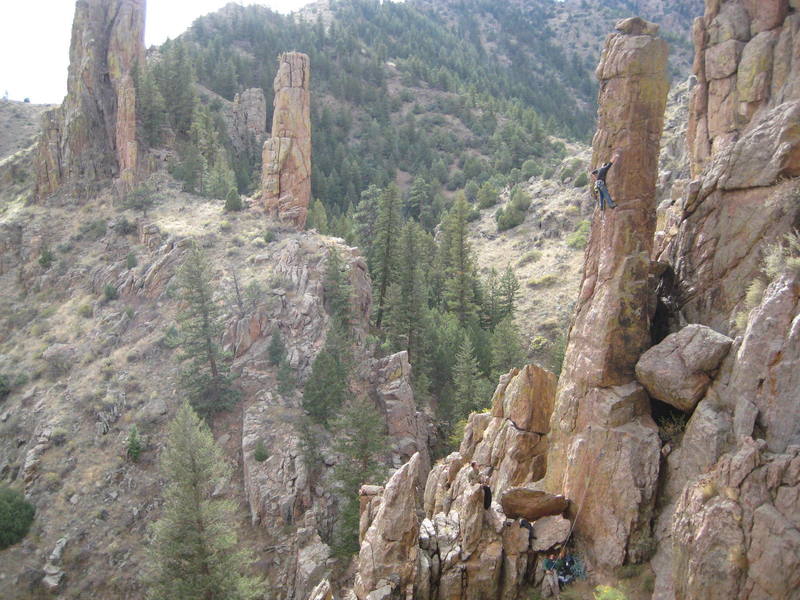 This past weekend, I took a trip up to the Poudre Canyon, a winding front range canyon carved out by the seventy mile long Cache La Poudre river.  This canyon is all things recreation to residents and visitors of Fort Collins, CO.  I have only been up here twice, both times to splitboard up at the Diamond Peaks near Cameron Pass in the winter time.  This canyon is incredibly long; it takes almost two hours to travel the winding highway from Ft. Collins to the top of Cameron Pass.  However, the abundant recreation all along the highway are well worth it.
For this trip, we traveled less than a quarter up the canyon, to camp at the Narrows Campground.  This is a developed National Forest campground, with about eight pads strictly for tent camping.  There is a toilet, trash, and water on site.  In addition, the campground is short walking distance from the river.
Many rafting companies were putting in below 'The Narrows' (which looked to be some serious class V water), and we saw a few kayakers as well.  It was a hot summer weekend which would have been perfect for rafting.  We instead opted to rock climb on Saturday.
Not having climbed here before, I did some research on Mountain Project and discovered a crag known as The Crystal Wall.  It was only a few miles downriver from our camp.  After a short drive, we were walking along the road looking for a way to scramble up the steep cliffs next to the road.  Finally, I had spotted a fixed rope right where the Mountain Project page said it would be, and it was a fun little scramble up to the trail.  From there it was a very steep hike up some a very loose scree to the crag.
The first climb we did was "County Line", a nice 5.8 with bolts place very close to each other for protection.  Then we went down the rock face and climbed "Clean Up on Aisle 9", which had some great ledges to step up on all the way to the top.
In the evening, we headed to the Mishawaka for a night out at the famous venue.  Built in 1916, it has become a legendary venue for live music in the Front Range.  What appears to be a biker bar from the outside is actually a very natural ampitheater right on the river.  We gathered at a corner table, ordered some drinks, and danced away to the sounds of Albino.
On the way out Sunday morning, we stopped in Fort Collin's Old Town at Choice City Butcher for breakfast.  Their breakfast menu is very good, with a wide variety of meats to substitute into eggs, burritos, etc.
The Poudre Canyon is full of recreational opportunities.  Only a few hours from Denver, it may remind you of Boulder Canyon or Clear Creek, but with a personality all to itself.