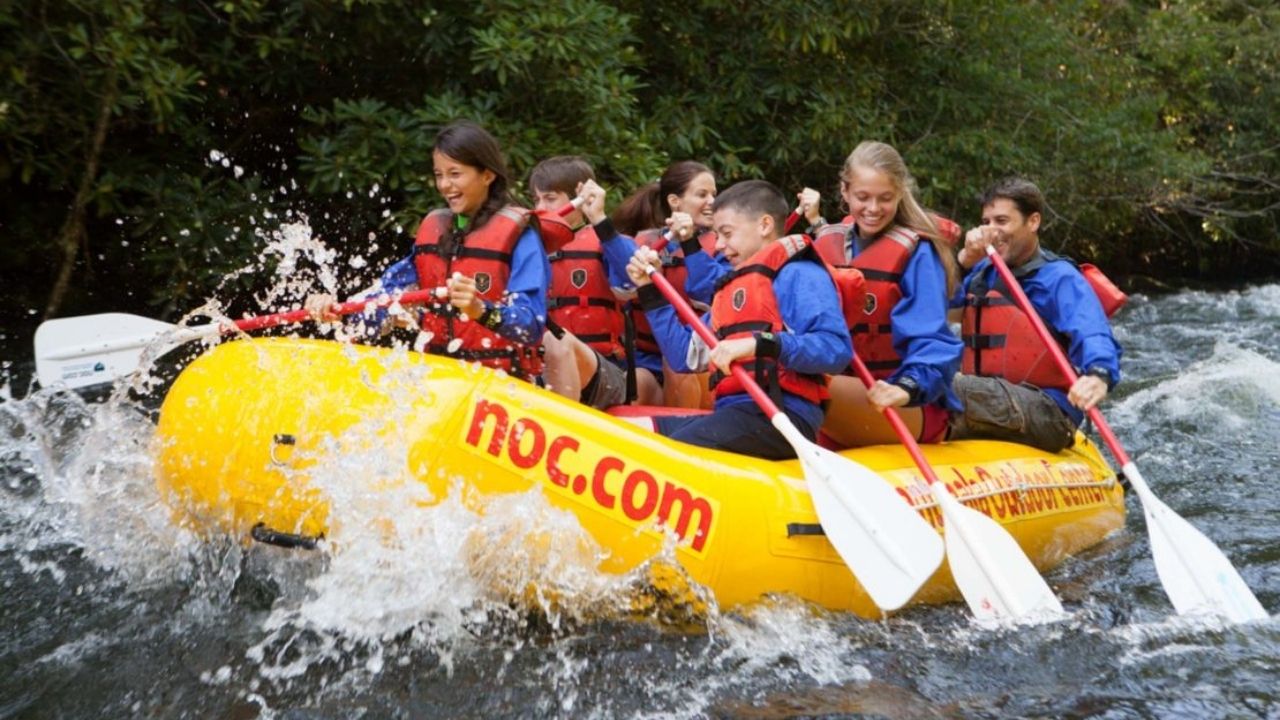 Sky Diving
The most fun you can have is by jumping out of a plane at 30,000 ft. I remember the nerve-racking flight with all of its light jostles, the discomfort of the goggles, the sweat pouring off my forehead. My heart was thumping like a jacket rabbit. But your heart suddenly stops when the man or woman opens the airlock door, and you end up saying "What the hell?" just loud enough for the person you're with to hear. On normal 747s that door is supposed to remain shut at all times to sustain cabin preasure. You can't help but worry that the plane is going to start dropping in altitude and everyone on board is going to crash into the Earth in a big ball of flames. Then there is the rush of standing in front of the open door, waiting for the courage to step off into a vacuum of thin air. That vacuum ends up feeling like an uncontrollable force shooting you toward the ground at an unbelievable rate. But then, when you've opened your arms and stretched out your legs, you feel like Aladdin descending on his magic carpet. Everything just seemed to slow down, and the only sound I could hear was the wind whipping through my clothes. I thought, everyone I knew was right, it does feel like being on a different planet. Before I knew it, it was time. My parachute opened – much to my relief. The next thing I knew, I felt like I had just been shot out of a cannon. I think that might be easier on my body. The wind blew my chute open and blew me like 30 feet back up within a second, pulling on my harness so much so fast, I felt like my limbs were going to tear off. Finally, when my feet touched the ground, I couldn't help the rush of adrenaline that swept over me. I whooped and screamed like a madman. I wanted to go right back into that plane and do it all over again.
If you're in Denver and you're interested, go to coloradoskysports.com or call them at 1-800-498-JUMP. Check out everything they have to offer. Try their training program. It does help to know what's in store for you before you actually agree to get on that plane and jump. It eases the tension. If I hadn't done that beforehand, I would've been so sick, it would've been mortifying beyond belief. Training will take less than 30 minutes. If you're that afraid of the experience, try the tandem progression. You have a teacher or tutor come with you on the jump. Both of you are attached to the same chute. If nothing else, you won't die alone. Then you also have the option of staying home and doing something while staying safely on the ground, like any number of options listed above or below.
When I heard my friend wanted to take me mountain climbing, I thought of the movies. You know those scenes where someone is climbing one of the highest peaks, they grab for a rock, their hand slips on some loose gravel, and they desperately try to catch themselves before falling. I'm not afraid of heights but the idea of losing my grip and my body splattering on the rocks below was just a little petrifying at first.
The next thing I did was stare long and hard at the Rocky Mountains, and I couldn't help wondering why my friend would want to climb one of them. Have you ever looked at the rockies in Colorado? They are pyramids. There doesn't appear to be a single straight, vertical line on the horizon. Then my friend drove me to our first mountain. These summits and cliffs are not the Pyreness or Caucasus or even the Cascades of Washington, but they are plenty high, plenty rocky, and plenty dangerous.
Rock climbing is the act of ascending steep rock formations. Most real rock climbers bring special gear; such as, a harness with an 8 knot or double bow-line knot, nuts or a spring-loaded camming device in which you stick into the cracks to hold on, and cabiners. Let me tell to you, they are quite literally what they call "friends". You are seriously hanging from these ropes, cams, and harnesses. To look down is to know just how fragile life is. Finally, we reached the top of these mountains and summits, and it's nothing like you see in the movies. In some cases it was better, and in some cases, I wished I had stayed home.
I got a damn good workout, lugging all of the equipment up steep rock formations. I thought I was in shape. HA! My body felt like it had been run over by a street sweeper the morning after.
Mountains and Summits to Climb in Colorado
Longs Peak – Towers at 14,249. You can climb or hike this huge mountain.
Culp-Bossier up Mt. Hallet, RMNP – III 5.8 8 pitches – Culp Bossier has some of the higher crux.
Stetner's Ledges + Kierner's – Features some beautiful sights and rough terrain. Go figure.
Le Petit Grepon – Features a very sharp, jagged crux.
Mt. Alice – A beautiful little waterfall is found on the way to the mountain.
Syke Sickle, Spearhead – Features a 5.10 crux slot through the roof.
River Rafting in Colorado
Want to get wet? The best way to go river rafting in the great state of Colorado is by taking a ride with Buffalo Joe's Whiteriver Rafting. This company will take you down the Arkansas River or Colorado River. The Arkansas great river near the Royal Gorge offers some spectacular sights. It's definitely not the shortest trip in the world to get there but once we did, my friends and I had one hell of a time.
You have to be prepared when you go whiteriver rafting as you have to be with any dangerous adventure. You need helmets and you most definitely need a life preserver. Otherwise, you can fly right off the boat and crush your head against a jagged rock or drown as the merciless river drags you downstream. Sound fun? No.
Buffalo Joe's offers some great package deals for you to get the full or half-full river rafting experience. First off, you can start from the Buena Vista office or the Royal Gorge office. The Royal Gorge portion of the trip is the best, most exciting, and most fun part of the Arkansas River. Get thrown into a bouncing, water-splashing hailstorm of thrills and chills. Your boat will literally be thrashing from every which way, from class 3 to class 5 whitewater. Then of course you've got a 1100 ft. deep gorge to pass by. Scary? No. Amazing? Most definitely. Me and my friends got so wet, so freaked, so horse from screaming it was unreal. Picture a bunch of guys screaming like little sissy girls and you'll understand just how thrilling this trip is. Sorry if I embarrased you, guys. You can also take a ride down the Colorado River, through Brown's Canyon, and have some great fun. Now, we actually did this too – the day after we were almost completely whiplashed by the Arkansas rapids, and it didn't quite seem as thrilling.
Buffalo Joe's Package Deals
Buena Vista Trips include:
Brown's Canyon Super Deluxe Full Day – Colorado River Rafting
Length: 22 Miles
Rapid numbers: 13, from class 3 to class 4
Meals: 1 most delicious entree
Prices: Adults are $78 and children are $64.00
Facts and opinions: This is their most popular trip, and I don't know why.
Brown's Canyon Half Day – Colorado River Rafting
Length: 12 Miles
Rapid numbers: 8 class 3 to class 5
Meals: Zero
Prices: $46 for adults and $39 for children
Facts and opinions: Supposedly, this section is the most popular in all of whiteriver rafting in the US
Wild Horse Canyon Express
This is the longest full day of rafting Buffalo Joe's offers. You start out in the narrows of the Arkansas River and get twelve class 3 to class 4 rapids.
Meals: Lunch
Then you go down Brown's Canyon for some more fun.
Facts and opinions: The price for adults is $99 and $89 for children. Remember to bring sunblock.
Wild Horse Canyon – Full Day
Length: 19 Miles
Rapid numbers: 12 class 3 to class 5
Meals: 1
Prices: Adults are $78 and children are $68
Buffalo Joe's Buena Vista Trips also offers overnight rafting, and camping.
Royal Gorge Trips include:
Royal Gorge Super Deluxe – Excitement on the Arkansas
Length: 20 Miles
Rapid numbers: 21 class 3 to 5
Meals: 1 famous and terrific steak dinner
Prices: Adults are $91 but $92 on Saturdays
Facts and opinions: Buffalo Joe's most challenging whitewater and that is absolutely true.
Royal Gorge Half Day
Length: 10 Miles
Rapid numbers: 10 class 3 to 5
Meals: Zippo
Prices: Adults are $55
Facts and opinions: This is easily the most exciting rapids you get in such a short time.
Royal Gorge – Double Dip
Length: 20 Miles
Rapid numbers: 20 class 4 to 5
Meals: The one delicious Buffalo Joe's Steak Dinner
Prices: $119 for adults and $120 on Saturday
Facts and opinions: The most challenging whitewater they offer.
Buffalo Joe's also offers the Big Horn Sheep Canyon, full or half day, which happens to be perfect for families with children.